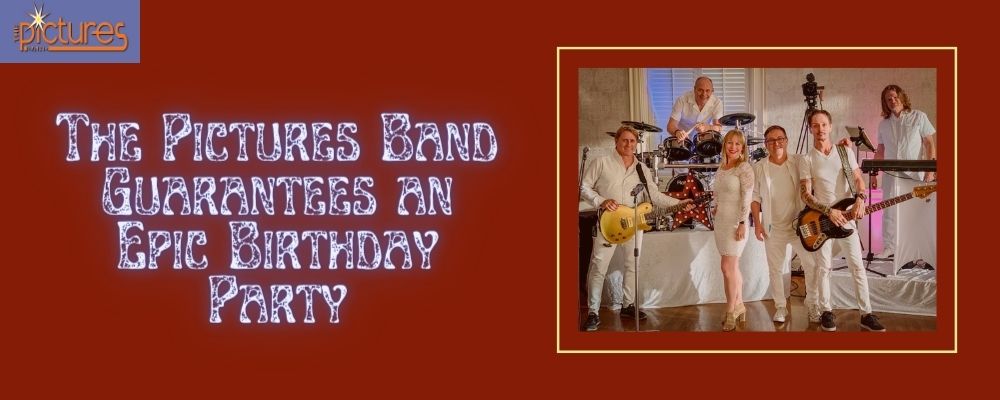 Looking for the best birthday party music band in Austin that will leave your guests talking for years to come? Look no further than The Pictures Band, the ultimate party-starters in the heart of Texas! 
With our incredible talent, diverse repertoire, and immense energy, our genuine musicians are here to make your birthday party an unforgettable experience. So get ready to turn up the volume, hit the dance floor, and let The Pictures Band rock your Lone Star State celebration like never before!
A Real, Organic Dance Band: 
Unlike other bands that are just a random assortment of musicians, The Pictures Band is the real deal. Our talented individuals have not only honed their skills individually but have also formed a tight-knit group that performs together all across Texas. Their chemistry on stage is palpable, creating an electric atmosphere that will have everyone on their feet and grooving to the beat. 
With our most energetic live party band in Austin, TX, you're guaranteed an authentic and mesmerizing music experience that will elevate your birthday party to new heights.
Endless Musical Variety
No matter what your musical preferences may be, The Pictures Band has got you covered. Our versatile musicians and talented vocalists can perform just about anything, catering to a wide range of musical tastes. 
Are you a fan of the edgy and fun vibes of the '90s? Get ready to reminisce and dance to your favorite throwback hits! Do you love timeless romantic songs that tug at your heartstrings? 
Prepare to be serenaded with soulful melodies that will create an enchanting atmosphere.
And let's not forget about the classics, millennium music, and traditional country tunes – The Pictures Band can rock them all with gusto. We are among the best birthday party music bands in Austin and are here to ensure that your birthday party playlist is tailored exactly to your liking.
Unleash the Party Animal Within
A birthday party is all about celebrating and letting loose, and The Pictures Band knows how to unleash the party animal within each and every guest. Our infinite energy is contagious, spreading like wildfire throughout the venue. From the moment we hit the stage, you'll feel an irresistible urge to dance and sing along. Our band members' passion for music is evident in every note we play and every lyric we sing, creating an atmosphere of pure joy and excitement. Get ready to break out your best dance moves and party like there's no tomorrow!
Memories That Last a Lifetime
When you choose The Pictures Band for your birthday party entertainment, you're not just hiring a band – you're investing in memories that will last a lifetime. Our electrifying performances and engaging stage presence will create unforgettable moments for you and your guests. Whether it's that epic guitar solo that leaves everyone in awe, the crowd singing in unison to their favorite anthems, or the heartfelt dedication of a special song to the birthday boy or girl, The Pictures Band goes above and beyond to make your celebration truly extraordinary.
Book The Pictures Band Today!
Ready to take your birthday party to the next level? Don't miss out on the opportunity to have The Pictures Band rock your Lone Star State celebration. With our genuine musicianship, diverse repertoire, and unbeatable energy, we are the perfect choice to make your special day truly memorable. So, get in touch with The Pictures Band today, and get ready for an epic birthday party that will have your guests talking for years to come.